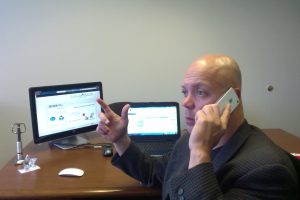 So my team and I have been with Gateway Funding for a year today. The last few years have been challenging, to say the least and for many of us in the business, changing companies is just like changing socks. If the ones you have on begin to smell a bit…change them.
Transitions, give you some great insight into the business and how different management teams come up with solutions to the common problems everyone faces in the market. However, I do feel that I have a unique insight into what can make a company a good place to work and what does not.
In no particular order, here they are:
1. A hook. As a company, you better have something that few others have. Can you do 203K loans, or VA loans better than anyone. Are you participating in downpayment assistance programs or doing Jumbo loans at conforming prices. The program does not specifically matter. What matters is the ability to empower your sales staff with a product that is a "hook" for conversations.
2. Some freedom. Sales people, by definition, perceive themselves to be a bit entrepreneurial. To that end some ability to create sales and opportunities without having to check every last flyer, email, script, social media page etc. for approval is needed. Give people wide guidelines and feel free to check who is meeting them and who is not, but give wide guidelines.
3. You have to have great ops to win today. No matter what!   Great operations systems, staffed by outstanding processors, underwriters, closers are what wins. Additionally, you can win with good operations if you have great people executing those systems, but no matter how good you think your system is substandard people will kill you dead trying to execute them. Great ops people matter, they are few and far between. If you have them, pay them and fight like crazy to keep them happy!
In addition to the few do's there are a few do not's I have noted.
1. Don't bullshit me, or anyone else who has been around the block. Even if we believe you up front, your spin, misrepresentation or outright lies (which have become way to common of a practice) will come back to bite you. It's a much smaller industry than it used to be. So own what you are and don't pretend to be something else to "close someone".
2. Don't make like everything under your roof is "proprietary". An LOS is an LOS, a CRM is a CRM and a marketing portal generates flyers with my picture on them. All of this was new and fancy from a tech standpoint in 2008 or so, but now everyone has them. So if you have slapped your internal name on the LOS and "tweak it up" you did not revolutionize the business. Don't sell me you did. Also, don't do this with loan products. If you are selling a Fannie Mae 7/1 ARM branding is as a "Mid Term – Payment Secure -Shared Risk" in house product is a waste of your marketing people's talents and your sales staff's time as they won't know it, understand it or sell it.
3. Every company has spent ridiculous amounts of time and money over the last 5-7 years trying to remain compliant, deliver loans to closing and make both their clients and employees happy building out huge infrastructures in the process. Companies believe that they have "figured it out" because of the sunk cost. Generally, most haven't any better than the next guys. They have a system that works better for them but the next company feels the same way about their completely different system that is trying to accomplish the same thing. There are way too many smart people still in this business working on marketing, compliance and operations. They don't all work under your roof.
I would say then, that it does not matter exactly who your parent company is, only that you have the right deal and the right model that fits your personality, sense of business and meets your individual agenda for your book of business. They do a pretty good job here at Gateway. Better than most of the ones I have been with.  But what works for me may not work for everyone.